Wow!  We moved our first horse.  We learned A LOT!  Cadencio is almost 23 years old and his last home had been on a horse farm for at least 10 years.  It took Rick and I about an hour to get him loaded on the trailer.
When we got home, about 20 minutes later, he was sweating buckets!!  What the heck????  He was STRESSED!!!!  It was the first time we had ever seen him like that.  He did follow me around the perimeter of his new pasture but he was very high headed and nervous.  I made sure he had water and there was plenty of grass so…….what else could we do??  I was stresses and couldn't sleep.  It was incredible difficult to watch him and not be able to help.  I learned that his profuse sweating was normal.  I learned that there IS nothing I could do.  I learned to trust; to trust myself and even more important I learned to trust Cadencio.  He will find what HE needs.
A horse is resilient and will conserve energy.  I learned to be present, observe and aknowledge Cadencio's process in settling in.  We have 2 cats and when we moved them one took about 4 hours to acclimate; our other cat needed 2 months.  As we watch Cadencio in the pasture we observed him finding a spot where he felt safe.  The we watched him explore and be more comfortable in a larger area accessible to him.  The other thing we observed was Cadencio's reaction to the 4-wheeler.  I was dragging some branches to the woods and I noticed he was walking the fence parallel to the 4-wheeler.  Rick saw it so he decided to drive the 4-wheeler outside the fence and I watched Rick and Cadencio play!!
He also helps with morning chores (sometimes)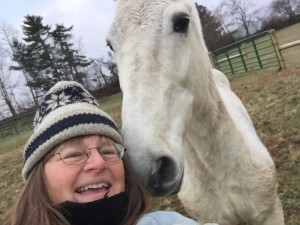 As we prepare to move 2 mini horses we have learned that sweating is within the norm.  We learned to prepare and then simply watch the horses.   I hope the learning curve is not as steep with the minis!!